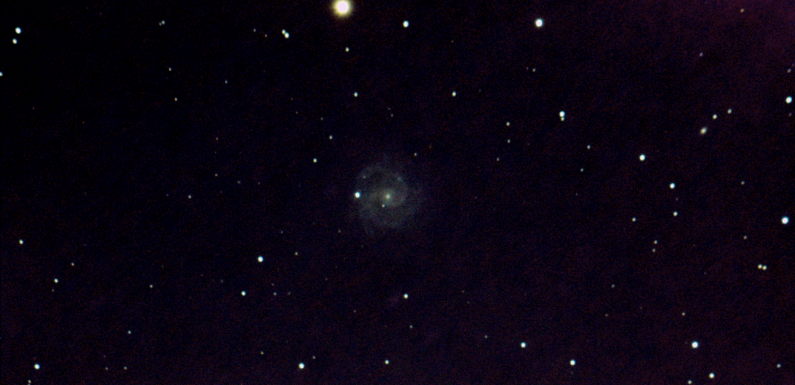 Nice, clear, cool, but a bit windy. I had planned to leave the Celestron C6 SCT on the mount to see how the F/6.3 focal reducer would do for some EAA… Well it didn't. I had nothing but problems: problems with focus, problems with plate solving, problems with GOTOs. After messing with things for about two hours with no real positive progress I took the C6 off the mount and put the AT66ED back. I was hoping to at least get some EAA observing in. Observed a few galaxies, one of which I get to add to my M81 Group observing list.

All these EAA images were capture with my SV305 Camera through my Astro-Tech AT66ED and live stacked using SharpCap Pro. The mount and cameras are remotely controlled with KStars/Ekos/INDI running on an Astroberry Raspberry Pi. The images have been resized and cropped for size but otherwise appear just as I observed them.
NGC 3184 a spiral galaxy in the constellation Ursa Major. Live stack of 200 x 15 second exposures at 500 gain.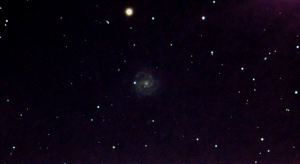 I have visited this one before, back on 01/26/2022, but spent a little more time here last night. Same scope, same camera as before, just more time. Started to see some detail in the spiral arms. This wasn't the first observation of NGC 3184 and it won't be the last.
NGC 3147 a spiral galaxy in the constellation Draco. Live stack of 120 x 15 second exposures at 500 gain.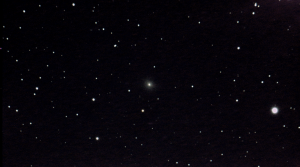 Faint little galaxy. I can just start to resolve the outer arms. I'll be back for more of this one too.
NGC 4236 is a barred spiral galaxy in the constellation Draco. NGC 4236 is a member of the M81 Group. Live stack of 120 x 15 second exposures at 500 gain.


The brighter blue speck, just to the right and down from center, is PGC 39369. I was glad to get this NGC 4236, it is the only thing that went as planned (even though I had planned to observe it with the 6″). That's another one for the M81 Group list!!!
Since I changed out scopes in the middle of the session I did not mount the guide scope on the AT66ED. I had only done a visual polar alignment using the polar scope, but my polar alignment was pretty good. I was drifting about 50 arc seconds over 5 minutes. After each 5 minutes (20 x 15 seconds) of capture I would plate solve and sync and then recenter to keep the targets centered in the frame for stacking. This worked out surprisingly well.
Despite the problems with the C6 it was still a pretty good night… the AT66ED saved the night! I'll revisit the Celestron C6 with the F/6.3 focal reducer in the future, I'll get it worked out.
I called it a night and covered the scope at about 1:30 AM.
The skies are suppose to be clear again tonight. The grandkids are suppose to be over later so I am hoping to share a few views with them.