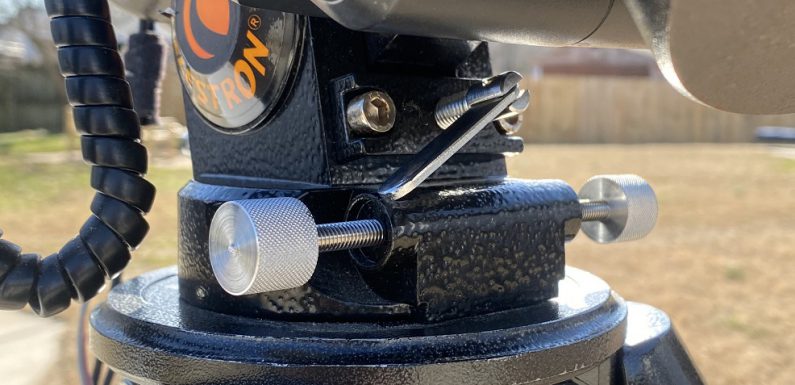 Weather was pretty crappy last weekend. I put the scopes away due to the winds and we did get a bit of snow. I spent a lot of time checking out the new annotation feature in the latest SharpCap release, I also machined a set of aluminum knobs to replace the plastic azimuth adjustment knobs on the Celestron Advanced GT CG5.

I have an import 7×14 mini-lathe which I have done a few projects on. I bought the mini-lathe to learn some of the processes of machining and I am always looking for ideas for things I can make with it. I thought… the plastic knobs for the azimuth adjustments on my mount could be way cooler. The azimuth adjustment knobs allow you to adjust the mount east (right) or west (left) when doing a polar alignment. There is nothing at all wrong with the plastic knobs, but I had some time, a piece of 3/4″ 6061 aluminum round bar, and the mini-lathe… so I chucked up the round bar, powered up the lathe, and turned a new set of aluminum knobs.
I made a couple finishing passes on a piece of 3/4″ aluminum, just for a nice finish. Then knurled a little more than a 1/2″ section for the knob.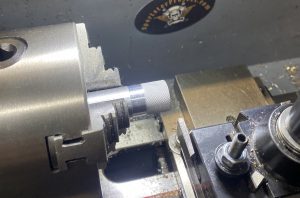 Drilled in 5/16″ with a 5mm bit and tapped for M6x1.0 and then parted it off. Repeated this process for the second knob. Took me about 2 hours to machine each knob. A lot of that time was for parting process, which is a slow process on this mini-lathe. No big deal with the crappy weather and snow I didn't really have anywhere to be. I am pretty happy with the results and it is the first time I have put a knurl on a part. The second knob came out with a little better finish than the first, but they will work fine and will definitely look better than the plastic knobs.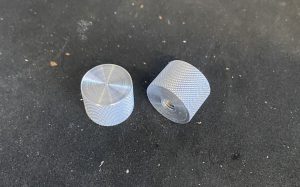 The azimuth adjustment holes on the mount are threaded M6x1.0. I ordered some M6x50mm 304 stainless steel threaded studs. Using a drop or two of super glue to lock them in, I screwed the M6 studs into the tapped holes on the knobs. Let the super glue cure for a bit and then installed the new knobs on the mount.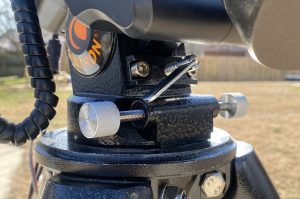 I doubt these new knobs will help me improve my polar alignment, but they will look better doing it. I have some 1″ 6061 aluminum round bar and I think will make great knobs for the altitude adjustment screws as well.